Floors that are left plain without any arrangement and decoration tend to be easy to clean. But with the carpet can make the room more aesthetic. However, on the other hand, a plain floor will give a cold impression and feel hard, so that sometimes it makes the occupants feel insecure and bored.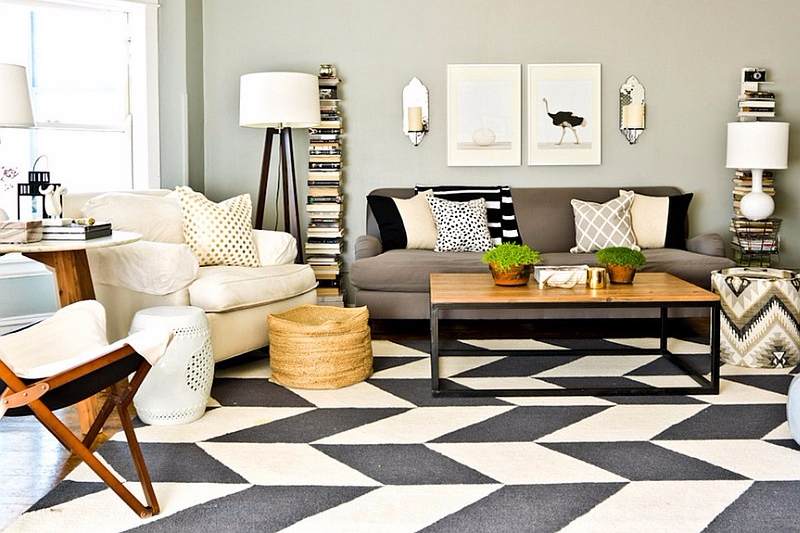 There are several ways to make the floor of the house warmer and more attractive, one of which is to install a floor rug. Follow this post to find out the benefits of floor carpets and the reasons for installing floor carpets. You will also find a guide to choosing the right floor rug based on the carpet material, the room of the house, and the shape of the carpet. Here's the explanation:
Benefits of Floor Carpet
When you first look at the various patterned carpets in a shop or when you enter a room, what usually comes to mind is the beauty of the carpet and its function as part of the decoration. Meanwhile, carpet actually has more uses and benefits than just sweetening the room and freshening up the eyes. Carpet motifs and colors can make an ordinary room more lively, lively, and fun for the guests.
Carpets can also provide protection and comfort. This floor covering can minimize impact when the occupants fall, protect the floor from furniture scratches, and provide protection from cold temperatures. Installing carpet on the floor of the house can also help reduce noise. It's no wonder that many offices and hotels install carpet in meeting rooms, right?
For those of you who have an open space concept housing such as a studio model apartment, the use of carpet can be a differentiator. For example, the dining room is hinted at with one light patterned rug, while the family room is hinted at by a darker patterned rug. So, without the need to install room dividers that reduce relief, you can provide significant comparisons between rooms thanks to the installation of floor carpets.
Guide to Sorting Floor Carpets
Almost every room in the house can be decorated with carpets. It's just that, what you need to pay attention to is the carpet material you choose should be adjusted to the room. Here are some tips that can help you determine the best carpet choice for each room.
1. Knitting Carpet for the Bedroom
There are several uses for carpet in the bedroom, namely to help regulate room temperature, muffle sound, warm feet, and provide a sense of security to householders. Installation can evenly cover the floor of the room or only in certain areas where you often set your feet on the floor, such as at the bottom of the bed and dresser. Choose carpets that are soft and safe on your feet, such as knitted rugs from natural fibers and synthetic fur rugs for bedrooms. It would be better if there was a non-slip pad at the base of the carpet so that it would not move easily.
2. Rubber Carpet for Children's Playroom
Bright colors and motifs on the carpet will provide a fresh atmosphere in the children's playroom. The type of rubber carpet like those used in gyms fits perfectly in this room. Its flexibility and tenderness can prevent injuries and injuries from slipping or falling. This soft carpet will be very useful for active children. Rubber carpets can also reduce noise when running and jumping small.
3. Fur rugs for living rooms
For the living room or family room which serves as the heart of the house, a large rug will accommodate all family members and relatives who gather. For every day, a soft fur rug or a cotton knitted rug can meet the needs of the family. However, when large families get together, you should roll out a knitted rug made from pandan or rattan material that is large in size. Traditional knitted rugs in Indonesia are known as mats that are synonymous with togetherness and warmth.
4. Vinyl Carpet for the Kitchen Zone
Vinyl rugs or carpets made of tough vinyl are suitable for placing in the kitchen because they are easy to clean from sticky and stubborn stains. You can place this rug where you often stand, such as in front of the dishwasher.
5. Woven Rug for the Bathroom Zone
In dry bathrooms, carpet is usually placed in the sink and toilet area as an absorbent for water splashes so that the bathroom is not slippery. Currently, there are many carpets that conform to the shape of the toilet legs in various materials, including woven. Meanwhile, for a wet bathroom area, usually a rubber carpet or rubber mat with non-slip properties is needed so that you are more comfortable walking.
6. Recycled Material Rugs for Outdoor Zones
Carpets designed for outdoors usually have colors that do not fade easily even though they are often exposed to direct sunlight. Usually, outdoor carpet is also stronger than fungal invasion and is damp, let alone water resistant. Because they are designed to withstand conditions that get dirty more easily, outdoor rugs are generally stiffer and not as thick as rugs for indoors. Currently, one of the materials often used to make outdoor rugs is recycled plastic bottles.